WAGG WONDERINGS
Click on HOME to restore the frame and left index if not on screen.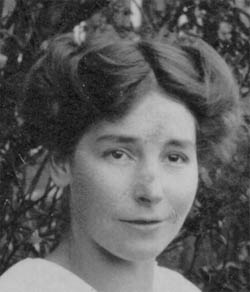 Kate Teeling (née Wagg), born 21-Jan-1892 in Snettisham, Norfolk, England.
John Wagg, 1785-1864
Why is there no army record for John Wagg (or "Wegg") born in Great Bircham, Norfolk, Sally's great great great grandfather? According to his Settlement Examination there on 30-Jan-1815 he was a soldier for 11 years, from 1803 or 1804 til his discharge on 5-Dec-1814. He married Catherine Risden from Dublin in 1812 or 1813 in Charleville, County Cork, Ireland and their first child was born in 1814 or 1815 in Bantry, also in County Cork, later christened 10-Mar-1815 in Great Bircham, Norfolk, England.
The index to records of soldiers' documents shows one John Wagg discharged in 1814, age 29, but he was born in Staffordshire, served in artillery and can be found in the 1841 and 1851 censuses. He is not ours.
Henry Wagg, 1862-1945
Why is there no birth certificate for Henry Wagg, Sally's great grandfather? He was christened 9-Nov-1862 in St Thomas's Portsmouth, Hampshire while his father was still in the army.
John Wegg, probably born before 1696, buried 5-Jun 1760 in Sedgeford, Norfolk
Unfortunately, the Sedgford parish records can take us no further back than John Wegg and his children born from 1712 onwards.
I understand the Sedgeford parish records in the parish chest were damaged by damp and candle wax and are unreadable in parts. The early entries are in Latin. For example, "Gulielmus fil Johannes Maria Wigg baptizat decimo quarto Nove..." for the son of the above John Wegg translates into "William Wagg son of John & Maria Wagg baptized 14th November" (1722). (The originals and even their microfiche images will be sharper than the three illustrations here.)

On 5-Sep-1538 the Vicar-General Thomas Cromwell instructed the clergy in parishes to record all their baptisms, marriages and burials on a weekly basis in future. The Sedgeford parish records available in the Norfolk Record Office © date from 1560 but with the documents faded and soiled, early original records can be illegible. (A few parish registers begin before 1538, the earliest I have heard of in England is 1531.) However, the reason for the lack of Wagg/Wegg/Wigg baptism records prior to 1712 in the modern transcripts would appear to be because the three-times married John Wegg came from another parish. Although the lack of contemporary Bishop's trancripts prior to 1703 (a practice made general in 1598) and the poor legibility of the original registers on which the modern transcripts prior to 1703 therefore depend may mean his birth in the parish cannot be ruled out entirely.

Sadly, neither the modern transcript extract below nor the original parish register extract above tells us anything more about John Wegg on the occasion of his first marriage, to Tabitha Smith, on 20th August 1712.

(The NRO have the original parish registers, microfiche and printed copies of the registers, microfiche copies of modern transcripts, and Archdeacons' & Bishop's transcripts for Sedgeford in their searchroom. The former from 1560 and the last from 1703.)