Contact Lenses
We fit all types of contact lenses (hard, gas permeable; soft; and frequent replacement). In recent years there has been a move towards having lenses replaced more frequently.
"If you are used to wearing the same old contact lenses for up to a year, the idea of monthly disposable might seem odd. But the more you think about it, the more it makes perfect sense. Over a period of time, any lens will get dirty and worn, affecting not only the clarity of your sight but also the health of your eyes.
'Focus'monthly disposable lenses avoid this problem. Before they have time to lose their excellent visual performance you simply throw them away and pop in a fresh pair. This ensures excellent vision and maintains a fresh and healthy environment for your eyes.
Focus Visitint is the standard Focus lens but with a slight blue tint. This is extremely useful for handling the lens but it doesn't change the colour of your eye.
Focus Softcolors monthly disposable lenses are available in Aqua and Royal Blue to enhance your natural eye colour.
Focus Toric is the first ever monthly disposable lens for eyes with astigmatism. It is thinner than other conventional toric lenses and so gives exceptional comfort."
from a CIBAVision Focus leaflet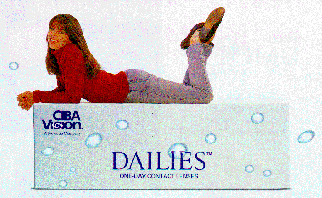 Focus Dailies

- the new CIBAVision one day lenses -are now also available. For further information on these and contact lenses in general you can try the CIBAVision Web site.

If this page has been reached directly, then clicking on HOME above will also restore the frame and left index. Then a click on "SFT-Ltd" will enable the top links to our other Optometry pages.