SALLY FRENCH-TEELING LTD
Sally French-Teeling BSc(Hons) FBCO, Chris N French MA(Hons) PhD
established September 1990
---
2 Rectory Court, 13 Wilmslow Road, CHEADLE, Cheshire, SK8 1DW

Phone/Fax: 0161 491 4271

Email the practice - Reception at SallyFrenchTeeling.com (no hyphen)
---
---

---
We look forward to welcoming you to our practice. We operate an appointment only system in store meaning that we can take our time helping you choose your new glasses, advise you on lenses, or make sure your new specs are the perfect fit. Please call us on 0161 491 4271 if you would like to make an appointment to see us.

For opening days and hours, please see below .
---
Sally's Patients
Sally's patients come from a large area. The map below shows the central part (25km by 15km) of this.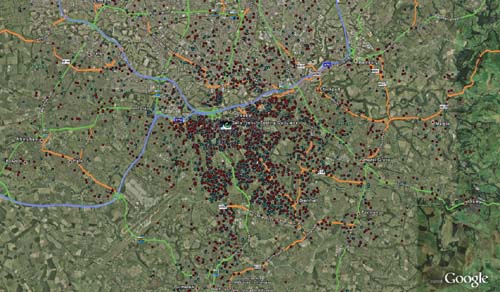 Click on the centre area of the above map for diagramatic map of practice and car park in Cheadle. Click on the outer area closer view of local patient distribution.
---
Location
Clickable Google map below shows practice and part of Cheadle Village and a few patients (locations of all patients disguised here and elsewhere).
---
Opened in 1990, Sally's practice is fully equipped and modern.

The practice is situated in the small Rectory Court shopping mall (see above) not far from the M60 Motorway and A34 (Kingsway). Rectory Court is opposite Cheadle Post Office, next door to the Tesco Express which opened in November 2009, and close by The White Hart & St Mary's church. The mall joins the Massie Street car park to Wilmslow Road, so the practice is conveniently situated for parking. The car park can only be entered via Massie Street & Charlotte Street as Chapel Street & Brooklyn Street are one-way only. The practice is accessible for disabled patients, being all on one level, and there are also toilet facilities for the disabled within the mall.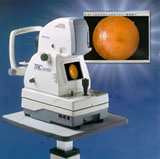 Regular eye examinations are important in maintaining visual efficiency and as a health care check for diseases like diabetes. Some people may be eligible for a free sight test.

All routine eye examinations should include an inspection of the retina to check for disease and this is commonly carried out using an ophthalmoscope. In addition our Topcon Retinal Camera enables us to store digital images of the back of the eye on the computer facilitating the detection of changes. You will be able to see what the optometrist sees. There is a charge of £10 for this service.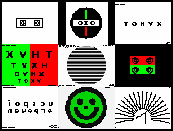 Sight testing is facilitated by our own proprietary computer software, the UMIST Eye System.
As well as offering eye examinations, both private and NHS (for those eligible), a full contact lens and aftercare service is offered.
The practice is normally open five days a week:
Monday, Tuesday, Thursday & Friday, 9:00AM til 5:00PM

Wednesday: closed

Saturday: 9:00AM til 4:00PM

We also close daily for lunch betwee 12 and 1PM

Closed bank and other public holidays
Please note we will be closed:

for Summer Bank Holiday Monday 28 August 2023

---
If this page has been reached directly, then clicking on HOME above will also restore the frame and left index. Then a click on "HOME" will enable the top links to our other Optometry pages.
---