---
Key ancestry in East Anglia in England[ENG] (Cambridgeshire[CAM], Essex[ESX], Suffolk[SFK] & Norfolk[NFK]) and Meath[MEA], Longford[LOG], Wicklow[WIC] & Dublin[DUB] in Ireland[IRL], but also elsewhere in England. NB Question marks (?) indicate dodgy entries involving more than the usual amount of guesswork. Abbreviations - click here. Surname interests include French & Teeling and Kemp, Milward, Norman, Scott, Softly/Softley & Wagg. Genealogical Exchange: for further information, corrections and connections: Email Chris at FrenchFamily.info I may have further information not recorded on the web site. Thankyou to the many people who have helped, apologies to those I have not credited. Click on HOME to restore the frame and left index.
---
DIRECT ANCESTOR ROOTS - ALL OUR KNOWN ANCESTORS
This page summarises our ancestry. There may be more information on the main lines on other pages, see links on the top line. Please note that, as with all our pages, the information is almost always out-of-date. As of mid-2009 we had indentified over 7,700 relations including more than 1,200 direct ancestors over 15 generations.

French Famuily Tree For family ancestors, click on image below for PDF file of the 2013 status, but remember that in places Chris may well be barking up the wrong family tree. He has in the past and may well be doing now and in the future.

---
Ancestor Sightings over 13 Generations as of 2022. Click on the markers below and zoom in and out to see who is there and when and for what reason.
---
Ancestor Sightings a Generation at a Time This short movie shows the same ancestor sightings as they appear over time. Zoom in and out to see the blue markers more clearly. Click on the first screen below to view. (For cousins marrying cousins see Pedigree Collaps, below.)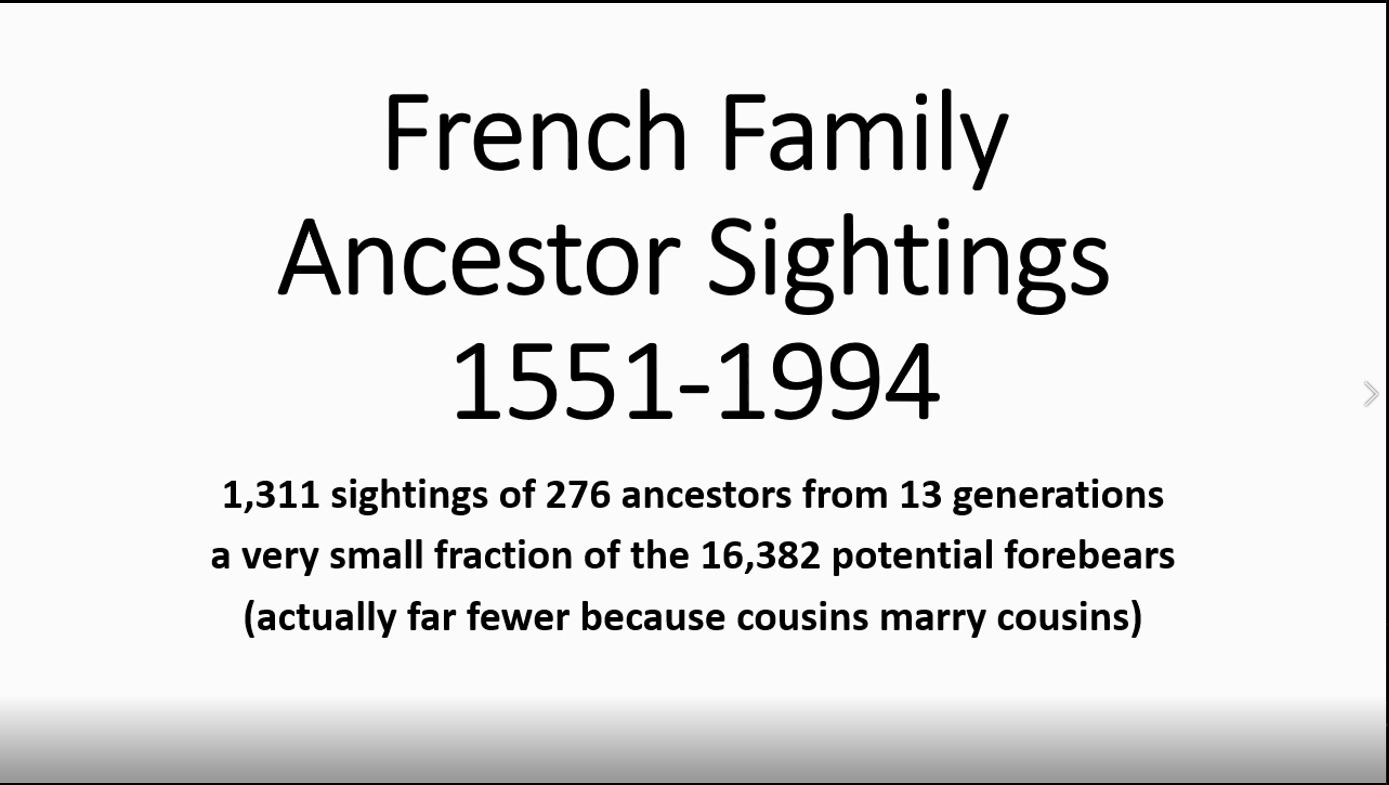 ---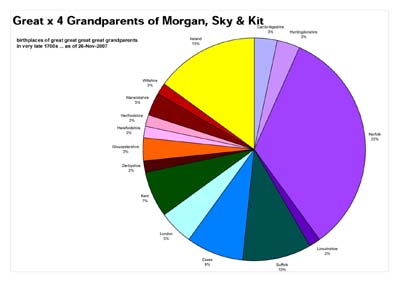 Birth Places. Click on the above pie chart to view properly the distribution of birth places of our ancestors in the very late 1700s. East Anglia - historically comprising Cambridgeshire, northern Essex, southeast Lincolnshire, Suffolk and Norfolk - dominates, as of November 2007.
---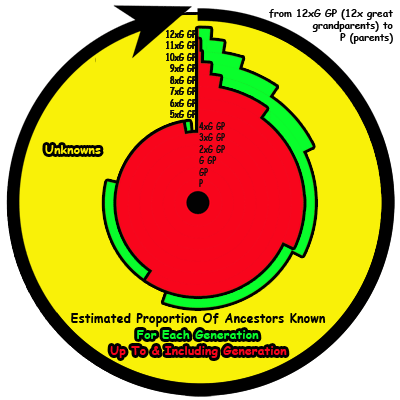 Yellow Brick Walls. Click on the above annular pie chart, to view properly the estimated proportion of our direct ancestors thought to be known for each generation and cumulatively back to the 16th century as of June 2016. Brick walls begin with just two missing 4 x great grandparents, the mother and father of Mary Teeling (nee Dunne) in County Meath, but increase rapidly in number in earlier generations with maybe just two known 12 x G GPs Christopher NORMAN (buried 1587 in Devon) and Thomas Oliver (buried 1649 in Kent). Speculative contenders Ambrose Holland and William French not counted here.
---
Genetics of Inheritance
Today's focus on Y-DNA and (to a lesser extent) mtDNA might lead some people to imagine that exclusive male and female inheritance lines are inheritantly more important than others of mixed gender, but this may not be so. It is just that from a practical viewpoint they offer potentially important tools to the amateur genealogist.

It might also be thought that we share some important obvious characteristic with everyone on these single sex lines or the associated haplogroups but there is no evidence for this.

Consanguinity or relatedness tell us what proportion of genes two people have in common. Genetics tells us that any individual should on average have 1/2 of their genes in common with each parent, 1/4 with each grandparent, etc, with each pathway the genes in common are halved. The following table illustrates the average relatedness for common blood relationships.
| | |
| --- | --- |
| parent | 50% |
| brother or sister | 50% |
| grandparent | 25% |
| aunt or uncle | 25% |
| great grandparent | 12.5% |
| great aunt or great uncle | 12.5% |
| half aunt or half uncle | 12.5% |
| first cousin | 12.5% |
| great great grandparent | 6.25% |
| half great-uncle | 6.25% |
| first cousin once removed | 6.25% |
| half cousin | 6.25% |
| great great great grandparent | 3.125% |
| second cousin | 3.125% |
But it is reported in 2007 that we share 99.5% of our DNA with Neanderthals and 95% of base pairs with chimpanzees. This is not - as it may at first appear - in conflict with the above table. In The Selfish Gene, Richard Dawkins puts it like this:
"The problem of relatedness trips many of us up in the following way. Any two members of a species, whether they belong to the same family or not, usually share more than 90 per cent of their genes. What, then, are we talking about when we speak off the relatedness between brothers (=siblings) as one half or between first cousins as one eighth? The answer is that brothers share half of their genes over and above the 90 per cent (or whatever it is) that all individuals share in any case. There is a kind of baseline relatedness."
---
Pedigree Collapse
One generation ago we each had two parents, two generations ago we had four grandparents and so on. One would have 2 to the power N direct ancestors N generations ago. Assuming a generation takes 30 years then go back 30 generations or 900 years and we find that on this basis we would have over a billion ancestors a total not reached for the whole world until the 19th Century!
"This paradox is explained by shared ancestors, referred to as pedigree collapse. Instead of consisting of all different individuals, a tree may have multiple places occupied by a single individual. This typically happens when the parents of an ancestor are related to each other (sometimes unbeknownst to themselves). For example, the offspring of two first cousins has at most only six great-grandparents instead of the normal eight. This reduction in the number of ancestors is pedigree collapse."
See https://en.wikipedia.org/wiki/Pedigree_collapse
---
'We are all descended from royalty'
"Sooner or later the number of positions on our family tree are filled with the same people over and over, until at some point all the branches coalesce. Everybody now is descended from everybody then. For Europe, that time is about a thousand years ago. All people of long-standing European descent have the same ancestors a thousand years ago."
from Adam Rutherford's A Brief History of Everyone Who Ever lived.
---
'We have no DNA in common with most of our distant ancestors'
ď... due to the way DNA is chopped up during the creation of sperm and egg cells, we lose genetic information from our actual ancestors, meaning that you have no DNA in common with half of your blood relatives from only three centuries ago."
from Adam Rutherford's A Brief History of Everyone Who Ever lived.

Ancestry DNA and others will report DNA matches as small as 7 centiMorgans indicating blood relatives as distant as 8th cousins with common ancestors 9 generations or a nominal 270 years further back in time, but we have only so far been able to match with 6th cousins. There are plenty of reported matches with potential 7th and 8th cousins but unfortunately we only have names for maybe 8% of ancestors 8 generations back. Most people who have submitted their data won't have as many ancestors that far back anyway so we are unable to identify who the common ancestors may be.
---
HISTORY OF OUR FAMILY HISTORY
Chrisís parents had begun their investigation into the familyís history before he was nine years of age. He recalls being car-sick on a trip into the Essex countryside, possibly to St James' Church in Great Saling, to look at parish registers, and another boring visit to Somerset House in July 1951, with his parents thumbing through the ledgers looking for birth, marriage and death certificates. (In 1970 the General Register Office moved from Somerset House to St Catherine's House and because of it's new location, the civil registration or BMD index is sometimes referred to as St Catherine's, although it was moved again in 1997 to Myddelton Street which then closed in 2008.)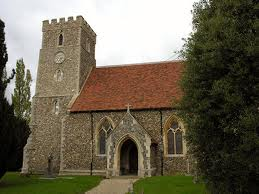 His keen interest in history is clearly shown by this extract from his school report when he was 16.

Sally first began investigated her family history in 1979 with help from a professional genealogist. This was a common route in those days, progress then was slow and could be expensive.
Chris believes his interest in the familyís history would have flourished earlier if (i) anyone had explained clearly who was who and what was what, and (ii) genealogy in those days had not been so expensive in terms of time and money. But they didnít and it was. (Feeble excuses!) In his view, it was only computer software that enabled him to get his head around matters as late as mid-1986, not long after the birth of their second child, although there was little more that you could do with a computer, genealogy-wise, back then. Research really took off when Chris and his sister merged their efforts in December 1996 and not long after that the computer came into its own.
Interest in genealogy was far stronger in the US than the UK. Family Tree Magazine began in the UK in October 1984, computer programs for the genealogist were around by 1990 with Family Tree Maker for Windows available on the PC in 1994. The 1851 census was published on CDROM by the Church of Jesus Christ of Latter-Day Saints in 1997. Although the IGI was originally created in 1969, it wasnít until May 1999 that the LDS web site was first opened to the general public. The number of CDROMs and online databases continue to grow.
Despite that, even today for manyt counties the only way to advance some early family history is to visit a distant county record office, pay someone else to do it for you, or buy expensive microfiche to study at home. It seems there will always be data that hasnít been digitised and the time and/or expense of accessing these sources in distant record offices will mean that there is always research still to be done ... lines to be extended, details to be filled in, yellow brick walls to be demolished.
But in 2004 the award of a Heritage Lottery Fund enabled the Medway Council in Kent to set up the CityArk image database of their parish registers, giving online access at last to original records.
It wasn't until 2009 that things really took off. Censuses from 1841 to 1901 had been available online for some time, but at the end of 2008 the 1911 census was launched, albeit initially at a high price. By June 2009 the Essex Record Office had begun to expand their image database of wills and other documents (searchable by SEAX) with free online access to imaqges of Essex parish registers up to 1700 and beyond. The FreeBMD indexes had already become very effective tools from 1837 to 1916 and beyond, but 2009 saw the addition of subscription-access via Ancestry to the BMD indexes from 1916-2004s. Ancestry also began putting the original London Metropolitan Archives online, indexed from the early 1800s onwards. At last family history was truly at your finger tips in your own home, from today all the way back to the 16th century, but blackspots still in many counties.
On 19 February 2010, the LDS put images of the Norfolk Church of England Parish Registers & their Bishopsí Transcripts 1538-1900 online.
On 4 November 2011, Essex Record Office launched its Essex Ancestors. This new service offered unlimited pay-to-browse access to images of all Essex parish registers (not just those up to 1700) and many wills, replacing the free service for the earlier records.
On 8 July 2015 the National Library of Ireland made images of their Catholic Parish Registers freely available online and on 1 March 2016 FindMyPast made digitised records of these images available to their subscribers.
Chris submitted samples for his Y-DNA in 2003 & later his mitochondrial DNA, and Sally for her mt-DNA in 2007. In 2011 they both obtained their full genome sequence for the X chromosone and their autosomnal DNA (using FTDNA's Family Finder). The latter may enable us to eventually bridge gaps and extend lines if and when more people take advantage of this important technology.
---
EXCELLENT NEWSLETTER
Lost Cousins has an excellent regular Newsletter on genealogy developments.
---
SALLY'S ANCESTRY
Sally is just over a quarter Irish (9 parts Irish and 23 parts English) as judged by the places of birth of her great great great grandparents at the end of the 18th century. But almost two-thirds of her direct ancestors originate in Norfolk in East Anglia in England. See Ancestor Footprints above.
IRISH ANCESTRY & IRISH BRICK WALLS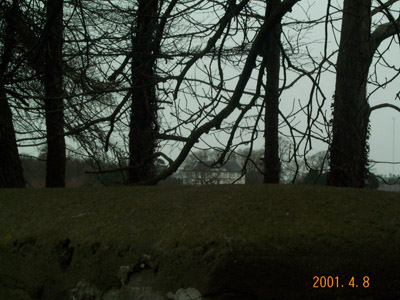 Meath, Ireland: Sally visited Meath and met her Irish cousins in 2001. Her great grandfather Edward TEELING (1849/1850 - 1930) emigrated from there, but we have been unable to find where and when his parents, Thomas Teeling and Mary DUNNE, were born or his father died. Click on Sally's Teeling Line at top for more information on the Teelings.
Longford, Ireland: Her great great grandfather, Peter McLOUGHLIN (ca. 1816 - after 1861) came from County Longford. His parents might have been a Bernard/Bryan McLoughlin and a Margaret LANGAN, but we haven't found Peter's death in England and he may have returned to Ireland. See PDF File of Our Ancestor Tree.
Wicklow, Ireland: Sally's great great grandmother Mary FRAIN/FRAYONNE (ca. 1829 - after 1863) came from County Wicklow. A guess at her parents are Patrick & Elizabeth Frayonne. Mary died after 1863 but as with her husband we don't know where. She too may have returned to Ireland. See PDF File of Our Ancestor Tree.
Dublin, Ireland: Sally's great great great grandmother Catherine RISDEN (1777/1783 - 1863) was born in Bow Street, Dublin, although once more no record appears to have survived. She married Sally's great great great grandfather, John Wagg (ca. 1785-1864) during his 11 years in the army. They reported they were married in Charleville and had their first child in Bantry, both in County Cork. We have not been able to find John's army record. See PDF File of Our Ancestor Tree.
ANCESTRY IN NORFOLK IN EAST ANGLIA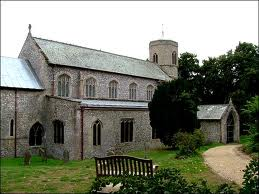 Sally's main ancestry lies in Norfolk in East Anglia where she was born. Three-quarters of her grandparents and two-thirds of her great great great grandparents were born there. See PDF File of Our Ancestor Tree. Her female line also originates in Norfolk - see Sally's Female Line at the top.
On and off - from 1719 to 2013 - Sally's ancestors (Waggs & Teelings among others) have lived in Sedgeford, Norfolk (see St Mary's Church above) - mere blips in the history of this area. Its history can be found here thanks to SHARP (Sedgeford Historical & Archeaological Research Project)
---
CHRIS'S ANCESTRY
ANCESTRY IN EAST ANGLIA
Chris has no Irish blood but although entirely English his recent roots appear to be a little more varied geographically than Sally's. At the end of the 19th century his ancestors were mainly living in London/Middlesex responding to the magnetic draw of the capital. Back a further 100 years, at the end of the 18th Century, Essex was the most popular county with Suffolk second, but there were direct ancestors living in Devon, Gloucestershire and Derbyshire. Information on ancestry at the end of the 17th century is limited. Most records from that time, again go back to Suffolk and north Essex in East Anglia. See Ancestor Footprints above.
Historically, as well as Suffolk and Norfolk, East Anglia also comprises Cambridgeshire; plus northern Essex and southeast Lincolnshire. By this measure and the birth places of Chris's great great great grandparents, he is half East Anglian (6 parts Suffolk, 5 parts north Essex and 4 parts Huntingdonshire & Cambridgeshire with a further 16 out of 32 parts lying outside the region.)
Chris's more distant ancestors on both his male line (French) and his mother's male line (Norman) were undoubtedly immigrants from France, possibly between 1330 and 1550.
---
If this page has been reached directly, then clicking on HOME above will also restore the frame and left index. Then a click on "Family Genealogy" will enable the top links to our other genealogy pages with particular family lines - two female (mtDNA), FRENCH, TEELING, NORMAN, SCOTT, MILWARD, SOFTLEY, WAGG and KEMP.
---