---
Key ancestry in East Anglia in England[ENG] (Cambridgeshire[CAM], Essex[ESX], Suffolk[SFK] & Norfolk[NFK]) and Meath[MEA], Longford[LOG], Wicklow[WIC] & Dublin[DUB] in Ireland[IRL], but also elsewhere in England. NB Question marks (?) indicate dodgy entries involving more than the usual amount of guesswork. Abbreviations - click here. Surname interests include French & Teeling and Kemp, Milward, Norman, Scott, Softly/Softley & Wagg. Genealogical Exchange: for further information, corrections and connections: Email Chris at FrenchFamily.info I may have further information not recorded on the web site. Thankyou to the many people who have helped, apologies to those I have not credited. Click on HOME to restore the frame and left index.
---
CHRIS'S FEMALE LINE ORIGINS
200 years ago
Chris can trace his female line line back just over 200 years to Elizabeth Hall perhaps of Stetchworth, Cambridgeshire at the end of the 18th century. By the mid 1800s his female ancestry was living in Middlesex (Greater London, England), leaving for Essex by 1921 where they remained except for the war years, 1939-1945, see below.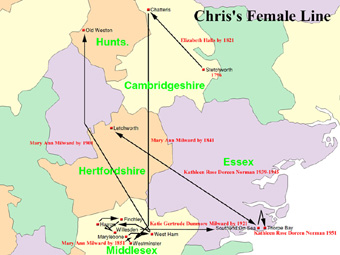 ---
Mary Ann Milward is Chris's great great grandmother and not related to his other Milwards from Derbyshire. Her parents John Millard (spelling may vary) and Elizabeth Hall married 26-Apr-1818 in Chatteris, Cambridgeshire. He came from Chatteris, while she came from Wisbech or Stetchworth and may have had a brother, Jacob. They died in Winwick, Huntingdonshire in 1838 and 1842, respectively. John was a carrier in 1840, although maybe a plumber in 1841. Unfortunately, we know nothing of the couple's life between 1820 and 1840.
---
---
If this page has been reached directly, then clicking on HOME above will also restore the frame and left index. Then a click on "Family Genealogy" will enable the top links to our other genealogy pages with our roots and other family lines - another female (mtDNA), FRENCH, TEELING, NORMAN, SCOTT, MILWARD, SOFTLEY, WAGG and KEMP.
---