---
Key ancestry in East Anglia in England[ENG] (Cambridgeshire[CAM], Essex[ESX], Suffolk[SFK] & Norfolk[NFK]) and Meath[MEA], Longford[LOG], Wicklow[WIC] & Dublin[DUB] in Ireland[IRL], but also elsewhere in England. NB Question marks (?) indicate dodgy entries involving more than the usual amount of guesswork. Abbreviations - click here. Surname interests include French & Teeling and Kemp, Milward, Norman, Scott, Softly/Softley & Wagg. Genealogical Exchange: for further information, corrections and connections: Email Chris at FrenchFamily.info I may have further information not recorded on the web site. Thankyou to the many people who have helped, apologies to those I have not credited. Click on HOME to restore the frame and left index.
---
SALLY'S TEELING LINE
Around 10,000 years ago
Approximately 11,500 years ago, the last severe cold snap (the Younger Dryas) came to an end and the present Holocene interglacial period began. With the retreat of the ice sheet, it eventually became possible for homo sapiens to return to Britain and Ireland while they were still attached to Europe.

8,500 years ago
"Ireland was separated from the rest of the (British) Isles at around 8,500 years ago". Sykes gives an estimate of the oldest clan (Ursulans) in Ireland of 7,300 years ago ("the date could vary by a thousand years either way and still fall within the scope of an estimate", Sykes). By 7,000 years the land bridge between England and France had disappeared.

Hay Teeling tree.

Up to 800 years ago
A useful summary of early Irish history (and that of England, Scotland & Wales) can be found in Bryan Sykes' book, Blood of the Isles, London: Bantam Press, 2006.

Over 800 years ago
The TEELING surname can be traced back to the late 12th Century in Ireland, to Hay Teeling, Lord of Syddan, a title associated with County Meath and maybe the Navan area in particular. His descendant tree covers almost 800 years from ca. 1195 to 1975. Unfortunately, beyond the surname, there is no evidence of a connection between Hay Teeling's descendants and Sally's ancestors.

Over 300 years ago
In the Hay Teeling tree, one's attention is drawn to Thomas Teeling of Mullagha and his descendants. He forfeited his estates in 1657. If there is a connection between this Thomas and Sally's ancestors, then there are missing generations covering 150 years or more. Below is the Teeling tomb in the Old Cemetry of St Canice's Church, Rathkenny (ca. 11 km north of Navan) where some Mullagha Teelings were buried. Picture (2002) courtesy of Patrick Teeling of Dallas.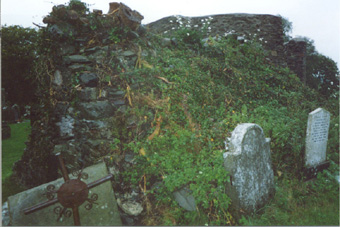 Click on above image for a brief 2005 movie of the Teeling tomb with the chapel in the background, again courtesy of Patrick.
To bridge this gap requires Y-DNA matches as well as genealogical research but, of course, a woman doesn't carry Y-DNA. What is needed is for a male cousin carrying the Teeling surname to match their Y-DNA with that of a male Teeling descendant also carrying the Teeling surname. Perhaps then descendant lines can be inferred. One could also see how the Teelings fit in with other Irish descendants via the Irish Heritage DNA Project. I understand that one Teeling Meath descendant has had their Y-DNA analysed and is R1b1.
Early 1800s onwards in Ireland
The Meath Heritage Centre and the LDS were key to establishing the Teeling ancestry in County Meath, although it would not have been possible without help from others including those who would later turn out to be distant cousins.
Sally's TEELING line goes back over 200 years, to the late 18th century, and the birth of Edward Teeling. His gravestone was reputedly worn away, but evidently said that Edward was a "Native of Allinstown, Parish of Courttown". It has been suggested he was born in 1794 or 5. He married Judith Duffy and my guess is that he had 8 or more children, although we have only found three in the Bohermeen registers. Based partly on the patterns of first names in the families, I suggest that at least three more - Edward James, Thomas and Ann - were born before the surviving Bohermeen registers begin on 2-Jun-1832.
Sally's great great grandfather Thomas Teeling married Mary Dunne in Athboy (ca. 12km south of Kells, itself around 15km west of Rathkenny) in County Meath, Ireland where in 1847 most of their children were christened in Bohermeen and the family lived in Athgaine Great (in the ancient parish of Rathboyne) near to Cortown, ca. 5km south of Kells, on the Charlesfort Estate owned by the Tisdall family (click on map below for larger image) where he was a "herd" (here a man in charge of a herd, perhaps one step down from a land agent and later referred to as a "gamekeeper" by his descendants). We have been unable to find the baptism or births of several of Thomas & Mary's children including their first born Judith (or "Julia") and Edward. Carmel helped bring all this together.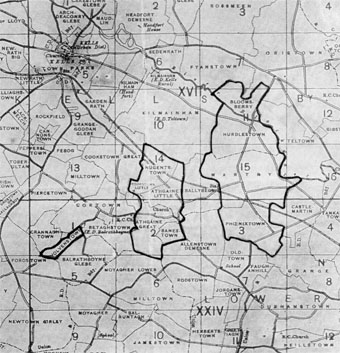 Thomas appears in the Griffiths Valuation of Athgaine Great in 1854 as the occupier of a modest house and office valued at £1 5s 0d. He was known as "Big Tom" on account of his 26 stone. The Map below shows map reference C where Tom was the occupier and John Tisdall the lessor along with Charlesfort House at the top. On his marriage certrificate, his son Edward refers to Tom as a land steward. Was he inflating his status? Other documents refer to Tom as a herd. 'Land stewards' or 'land agents' were representatives of landlords, living in the area where they owned the land, collecting rents from tenants etc, while a herd was in charge of a herd, the next step down from land agent. Maybe he fulfilled the role of what is elsewhere referred to as gamekeeper? The dog licence records showed that Thomas had number of dogs including collies between at least 1866 and 1890 which I assume were used for herding sheep. He also had terriers and retrievers.

Below is Mary Teeling, née Dunne, widow of Thomas Teeling, sitting outside the family home. Thomas died in 1891 and may have been buried near Kilbeg, not far from Carlanstown ca. 5km north-east of Kells. The whereabouts of his grave is unknown but there is a burial ground known as Histy (townland of Stahalmog) near there and a chapel just a mile away.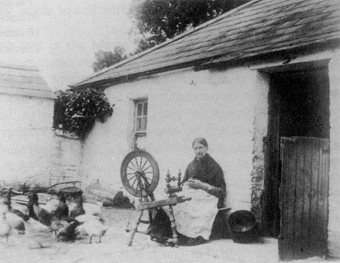 Below is the same Athgaine Great home - maybe 100 years later - in 2001.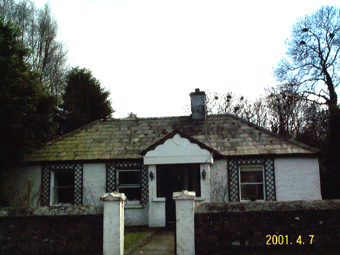 Below is a cross (1908-1945) with a flaming heart and crown of thorns around its centre in Cortown Graveyard marking the deaths of Mrs Mary Teeling 10-Sept-1908 aged 82 years; her son Peter Teeling 27-May-1930 aged 70; her daughter-in-law (wife of Peter) Mrs Margaret Teeling 26-May-1945 aged 70 and her grandson James Teeling (son of John Teeling and Ann Tobin) 10-Sep-1913 aged 30. We are indebted to Maureen Nulty Fagan for her help.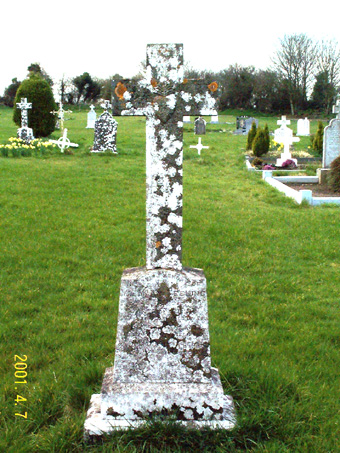 Not long after 1871, like many Irishmen, Thomas Teeling's oldest son Edward left Meath for England and today's North London - see below - and became a corner-shop grocer at the junction of Squires Lane & Long Lane in Finchley. He married Margaret McLoughlin. She had been born in England but her parents were from counties Longford and Wicklow. They had nine children, but Until 2009 we had been unable to find what happened to two of them, Philip Teeling and John Christopher Teeling, who were Sally's great uncles born in 1881 and 1882. We now know that both Philip and John Christopher emigrated to Canada. Philip married Nora Cook in Marmora, Ontario in 1915, while John Christopher had died at some time before 1956.

Sally's TEELING Line in in Last 200 years Click on above map for higher resolution image, created with Progeny's Map My Family Tree - http://www.progenygenealogy.com/ and then edited with Adobe Photoshop.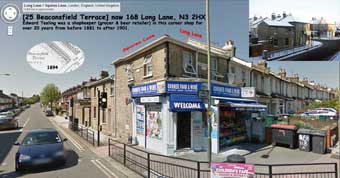 Finchley Corner Shop of Edward Teeling from before 1881 to after 1901 GoogleStreetViewed in 2013 Click on above photo for larger image
---
TEELING FILES
Go to Hay TEELING Descendants Page 22-Oct-2000
Go to Unknown TEELING Descendants Page 01-Dec-2015
Go to TEELING History Page 1905/2001
---
TEELING TEASERS
---
If this page has been reached directly, then clicking on HOME above will also restore the frame and left index. Then a click on "Family Genealogy" will enable the top links to our other genealogy pages with our roots and other family lines - two female (mtDNA), FRENCH, NORMAN, SCOTT, MILWARD, SOFTLEY, WAGG and KEMP.
---